Actress Aiko Melendez slammed Senator Leila De Lima on her Facebook post for showing her weakness on the middle of the controversy against her.
She believes that Filipinos has a high respect to women especially when they were in the world of politics. Aiko also said that women politicians must be brave and ready to face all the accusations against them.
She said on her Facebook post that Senator De Lima must face all the accusations against her and she should not use her gender as her card.
The Actress also questioned the Senator in her absence at the Congress Inquiry on Proliferation of illegal drugs in National Bilibid Prison. Aiko said that De Lima disrespected that congress for not participating in their investigation.
Aiko urged the Senator to stop crying and defend herself in front of the people who voted her.
Aiko also slammed her colleague in the showbiz industry who asked President Duterte to resign because he asked for another six month extension to suppress drugs and criminality.
The actress defended the President and she explained that the promise of the President during the campaign period was he would resign if he didn't do anything for six months.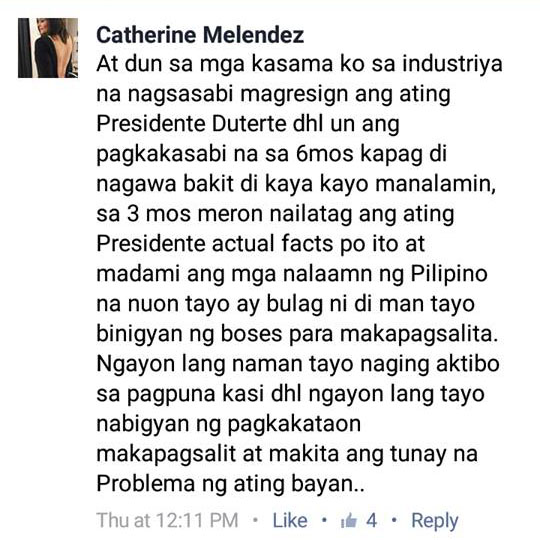 Aiko said that she wants a better future for her two children, that's why she wants a drug-free and safe Philippines.