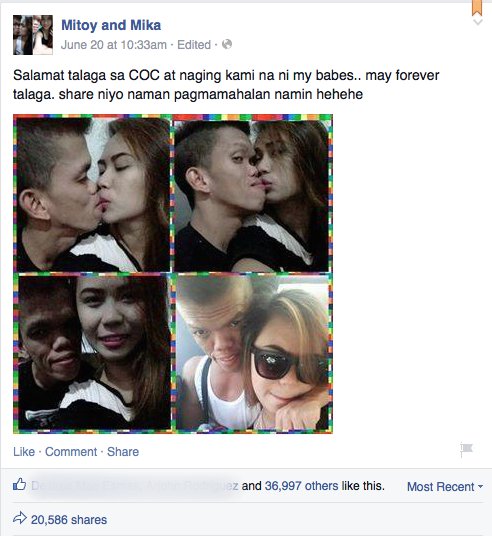 (https://www.facebook.com/mitoy.mika.official)
This photo is circulating on Facebook and Twitter because of their unusual story. According to the source of this photo, this couple met on Clash of Clans and they were clan mates for almost two years before they realise that they already like each other.
According to Mitoy and Mika Fanpage they are always chatting on Facebook and they are always sharing their gaming strategy in each other, but many people didn't like their relationship because of the appearance of Mitoy. According to Mitoy, he received many criticism from some Netizens, after their photo became viral on Facebook, but he is not reacting in their hateful messages and thinking that they are just insecure in his life now.
They added that Mika really didn't look at Mitoy's appearance, her boyfriend is kind and very loyal, that's a very rare quality that Mitoy got. Despite of many judgemental people who trying to bring them down, they are still showing their love on Facebook and Twitter and they are wishing that god gave them a child.
According to that Facebook page they are still playing Clash of Clans and Mitoy is considered as one of the top filipino players today. Mitoy is hoping that this social media bullying against their relationship ends.
"May Forever" Mitoy and Mika facebook page posted.
source:  Mitoy and Mika Facebook.