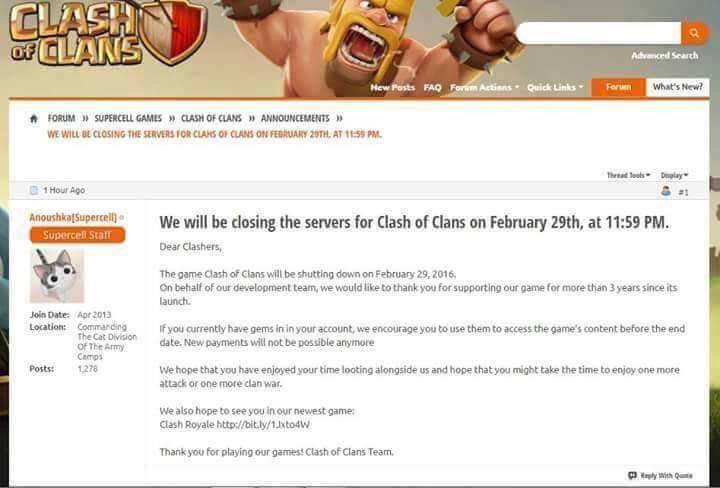 Facebook
There is a circulating news on the internet that the famous clash of clans who played by almost 100 million mobile users around the world is announcing that the game is closing on February 29th, at 11:59PM.
According to the print screen of the announcement that posted by fan pages on Facebook like Trending News and Viral FB Fanpage, Clash of Clans is closing to give a way to their upcoming new game, Clash Royale.
The reason of the closing of the game is not posted on the announcement and many people got panic after reading the announcement on the internet.
According to some people who plays Clash of Clans for a long time, the bugs, glitches and gem cheating is one of the biggest possible reason why the game is closing, but they also believed that the game is not closing because even there is a gem bug, Supercell is still earning hundred thousands of dollars everyday.
Netizens expressed their different reaction on the internet, some of them are disappointed after hearing the news and some of them are happy because finally people and their friends and relatives who already addicted to Clash of Clans is going to become productive again.
Supercell is still not speaking about the issue, but they are expecting to give an enlightenment annoucement to all the Clashers soon.