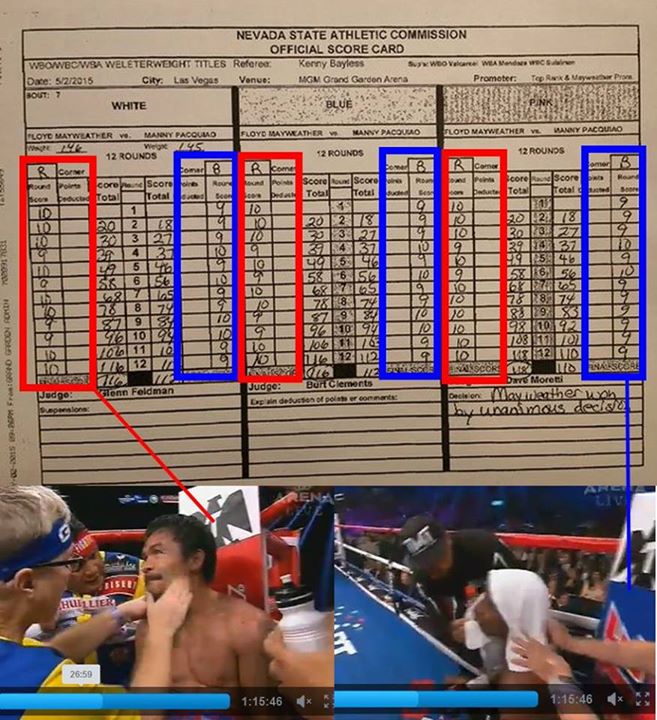 via Chris Cooke Facebook
A Manny Pacquiao's fan posted the official score card of the judges on the #maypac fight. According to some Netizens who saw this score card, the judges was reversed the decision on the Fight of the Century.
This is interesting, Paquiao was the Red corner, Mayweather was the Blue corner, official judges appeared to have given the points to Paquiao yet
result was a reverse, look what is hand written in the bottom of the score card on the right? 
@Chris Cooke on Facebook
via Facebook
Many fans of Manny Pacquiao angered when they saw the scorecard and the corner where Manny and Floyd sits. But according to some boxing experts, the color of the corner in the judges card can be sometimes different in where the boxer really sits.
Others defended the scorecard and said that "Just accept the decision, they are the real professional when it comes in boxing"
via Ronquillo Shem 
The decision is still controversial because million of people was expected that Manny Pacquiao wins the match, even the people who watched it live in MGM was very shocked with the results. The evidence that many people was disappointed with the results is the "booing" by many people in Mayweather when the result was announced.
People are requesting for a rematch, but some analyst said that possibility for a rematch is not yet possible and they joked that we need to wait another 5 years to convince them to fight again.